Request Interpretation Services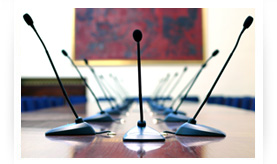 Circle Language Solutions provides interpretation services in a variety of fields. If you are looking for business, legal, medical, insurance or government interpretation, we can help you.
Our qualified and highly trained interpreters work under contract and ensure professional interpretation services during business meetings, negotiations, in conferences, courts, hospitals, doctor's offices and government agencies.

Interpreters working for Circle Language Solutions provide professional and reliable interpretation in over 30 languages such as Arabic, Bosnian, Bulgarian, Cantonese, Chinese, Croatian, Czech, Danish, Dutch, English, Estonian, Finnish, French, German, Greek, Hindi, Hungarian, Indonesian, Italian, Japanese, Korean, Mandarin, Norwegian, Polish, Portuguese, Romanian, Russian, Serbian, Slovak, Spanish, Swedish, Tagalog, Turkish and Vietnamese.
Our interpreters perform their interpretation services in and around Seattle, Bellevue, Redmond, Tacoma and also in other US cities such as New York, Chicago, Houston, Phoenix, Los Angeles, Portland, San Francisco, Boston, Philadelphia, Columbus, San Diego, Dallas, San Antonio, San Jose, Detroit, Indianapolis, Memphis, Baltimore, Charlotte, El Paso, Denver, Washington DC, Las Vegas, Atlanta, New Orleans, Omaha, Kansas City, Honolulu and Austin.