Schedule - English Classes
Learn English in Seattle!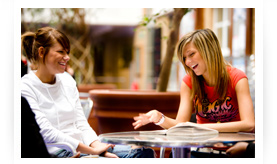 While there are many different ways to teach and learn English, we at our Language Institute believe that learning the English language requires the student to instantly be immersed in the target language.
Our English language lessons, taught by our skilled native instructors, are designed to build conversational skills.
Seattle Languages International offers different formats and levels of English group classes.
For students with very specific goals, our language school also offers private, customized English language instruction.
Seattle Languages International offers English language classes and lessons to non native residents in the Seattle area who wish to improve their English skills. Our Language School does not issue I-20 forms and offers the English language programs only for students who are already in Seattle on a tourist visa.
Learn to speak English while vacationing and visiting our beautiful city and region in the Pacific Northwest!
Our English programs
We offer 3 levels of intensive English programs that can be either taken separately or as a sequence. For students who wish to take two or all three sequences (beginner - intermediate - advanced) we offer a discount.
Students with specific English goals can also take advantage of our popular English private programs.
Our group class size is limited to 8 students per class. (average 6 students per class)
Students who wish to join a class that is already in session should contact our office.
Our intensive English programs are taught 3 hours per day, Monday through Friday.
Seattle Languages International offers also weekend and evening English classes.
English Conversational Intro class
Learn how to speak English. This class is 20 hours long and focuses on basic conversation, basic vocabulary and simple sentence structure. Toward the end the student will be engaged in more and more structural exercises.
Intensive English class for Beginners
This class is 4 weeks long, 15 hours per week. The main focus of this class is to acquire a basic vocabulary that allows, in conjunction with basic grammar, to reach a conversational level. A good amount of structural exercises is taught toward the end of the class.
Intensive English class for Intermediate students
This class is 4 weeks long, 15 hours per week. In these classes students will further their English speaking and writing abilities through more grammatical and conversational exercises.
Intensive English for Advanced students
This class is 4 weeks long, 15 hours per week.
Students are introduced to increasingly difficult sentence structure, verb tenses and grammatical concepts and can put the learned skills to use in discussions, reading and writing.
English private / semi private programs
Private instruction is for those students who want to boost their already very good level of English or who wish to learn very specific English skills such as English for Banking and Finance, English for Business, English for Lawyers, English Accent Reduction etc.
English private lessons are a good way to learn English quickly.
Click here to learn more about our private language programs.



(Please note that all classes are subject to cancellation if enrollment falls below 4 students.)
Some schedule changes may apply.

If you want to learn English with our private English tutors, please click here: private language programs.

English