Corporate Cultural Consulting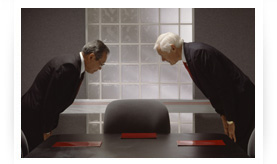 As more and more companies enter new markets abroad, one of the major challenges is not only the language barrier but are also cultural differences.
What may seem appropriate business behavior in one culture may be seen as inappropriate in another.
According to a U.S. State Department report "Ignorance of foreign languages und cultures cost U.S. companies over fifty billion dollars a year in lost sales".
Today many companies are looking to expand their markets beyond U.S. borders or want to create growth opportunities by entering into global strategic alliances with foreign companies. China, India, Brazil, Russia are countries with fast growing markets but represent also cultural hurdles that must be overcome in order not to fail.
According to a recent report a majority of joint ventures fail in Asia due to cultural differences.
Cultural understanding combined with foreign language skills is what your company needs in order to succeed.
Cross Cultural Training and Coaching
Seattle Languages provides cross cultural training and coaching for individuals or groups.
Whether you need to know business etiquette, you are hosting foreign business partners, need specific negotiation skills or whether you need to interact with your foreign staff, we can customize programs and seminars in order to suit your cultural context needs.
Moving to another country?
Relocating to another country can be a stressful event.
We will help you to settle into your new environment as quickly as possible.
Our cross cultural consultants can assist you with your overseas relocating project, whether you are moving alone or with your family.

Contact us and let us know how we can assist you.