Corporate Group Solutions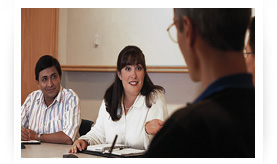 Does your business or for example non-profit organization need to train small or larger groups of employees in a foreign language?

Fully customized group classes
We customize all of our language programs in order to suit your language needs and will train you either at your site or at our training center.

Skilled language instructors
Whether your team needs to learn general or specific language skills, our predominantly native, skilled, experienced and culturally aware language & communication training specialists will provide you with effective, state of the art language training.

Small class size
Our group instruction is limited to 12 participants, allowing students to interact on a high level with each other and with their trainer.

Affordable and easy to set up
Our corporate group classes are affordable, follow a communication oriented approach and are easy to set up.
We serve businesses and organizations in various locations in the greater Seattle area, ranging from Everett to Tacoma, Bellevue to Redmond and other cities in Washington State.

Seattle Languages serves businesses and organizations mostly in the following languages: Spanish, Mandarin Chinese, English, Russian, Korean, Vietnamese, Brazilian Portuguese, French, German and Turkish. However, other languages are also available.
Cultural consulting can be included in the language training or can be requested separately.